GLDD is fully engaged in the rapidly developing offshore wind market in the U.S. Our first step in this effort is the investment into the build of the first U.S.-flagged Jones Act-compliant, subsea rock installation vessel (SRI) for wind turbine foundations. Currently under construction, our SRI vessel will set new standards for efficiency and innovation with its large capacity, accurate placement technology and cutting-edge battery and alternative fuel systems. This unique, technologically advanced vessel is an essential step towards building the marine infrastructure required for this new industry, which holds so much promise for our nation economically and environmentally. This vessel will service America's growing offshore wind energy industry and help reach the Biden administration's ambitious goal of 30 GW of offshore wind generation by 2030 which is estimated to service more than 10 million American homes.
Offshore wind will play a crucial role in helping the U.S. meet its decarbonization and renewable energy goals. This dynamic and emerging industry is expected to see a dramatic expansion across the U.S. shores over the next decade and will help to provide a reliable and clean energy source that will allow our nation to achieve a sustainable future.
GLDD's Critical Role in Realizing Offshore Wind's Potential
Subsea rock installation, known as scour protection, is required to stabilize the sea floor around marine structures. With the first, and only, Jones-Act compliant subsea rock installation vessel under construction at the Philly Shipyard in Philadelphia, GLDD is helping build the foundations for U.S. Offshore Wind.
Among its leading-edge technologies to better protect the environment, the vessel will have EPA Tier 4-compliant engines, a battery pack to shave peak loads, and plug-in capability to obtain shore power while loading. Additionally, it will be able to run on biofuel, reducing the ship's CO2 footprint and is equipped with active emissions control technology to mitigate NOx emissions.
Best-in-Class, Purpose-built Offshore Wind Construction Vessel
World-renowned engineering firm Ulstein Design and Solutions B.V. was commissioned by GLDD to design the vessel using state-of-the-art technology, equipment, environmental controls, and automation. The design has been reviewed and approved by the American Bureau of Shipping (ABS) and will be built with best-in-class safety, environmental and emissions standards, expected to be sea-ready by Q4-2024.
It will be awarded the ABS SUSTAIN-2 Notation, recognizing adherence to certain UN Sustainable Development Goals related to vessel design, outfitting and layout. The ABS SUSTAIN Notations establish a pathway for sustainability certification and reporting.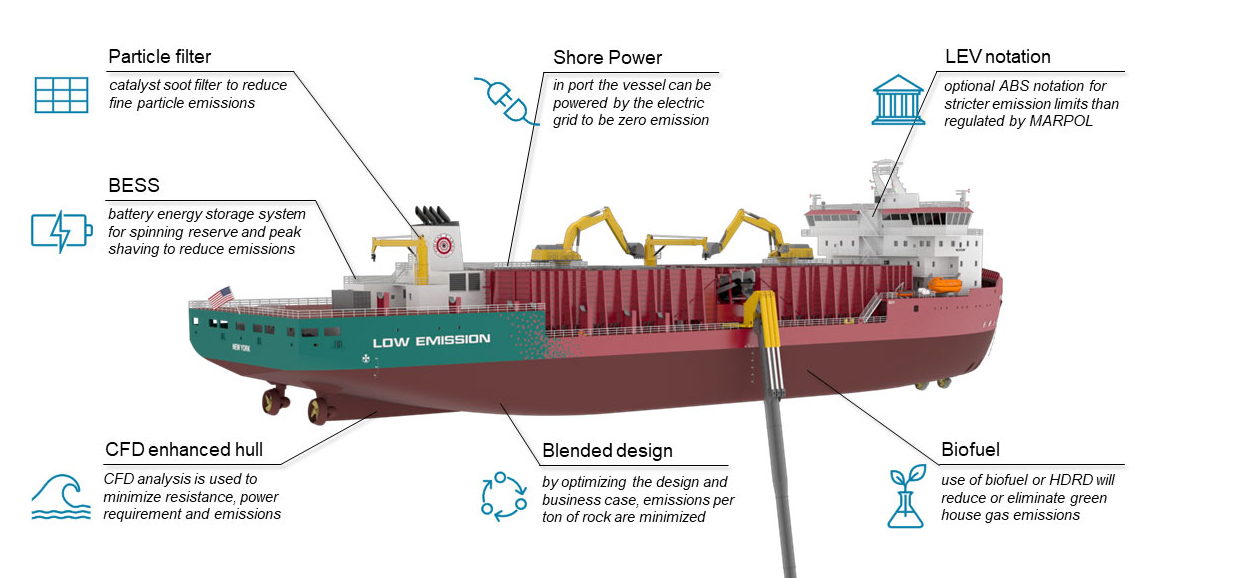 Best-in-class air-quality controls to adhere to EPA Tier 4 emissions standards

Ability to run on biodiesel for lower emissions

Work-class ROV capabilities

Loading Capacity of 20,000mT (2 x 10,000mT bins)

Dynamic Positioning System (DP2)

Scour protection with an active heave compensated fallpipe

Advanced multi-beam survey capabilities
The vessel represents a critical advancement in building the future of the new U.S. offshore wind industry, including establishing a U.S.-based rock supply chain network spanning eastern seaboard states with active offshore wind leases – expected to spur additional job growth and regional economic opportunities.
Building on Over a Century of Experience

As the leading U.S. dredging company with more than 130 years' experience and expertise in dredging, marine engineering, specialized vessel design and safe offshore operations, GLDD is harnessing the best practices from its long history to create a new dimension to its legacy. Most importantly, GLDD employs among the industry's highest safety standards and quality control protocols to all the projects it undertakes.
GLDD is optimally positioned to expand the scope of its core business into the offshore wind energy industry. From deep technical and operational expertise to insight, knowledge, and established relationships, GLDD has the experience to navigate the business, regulatory, and government landscape.
Great Lakes Dredge & Dock Corporation Awarded Large-Scale U.S. Offshore Wind Rock Installation Project